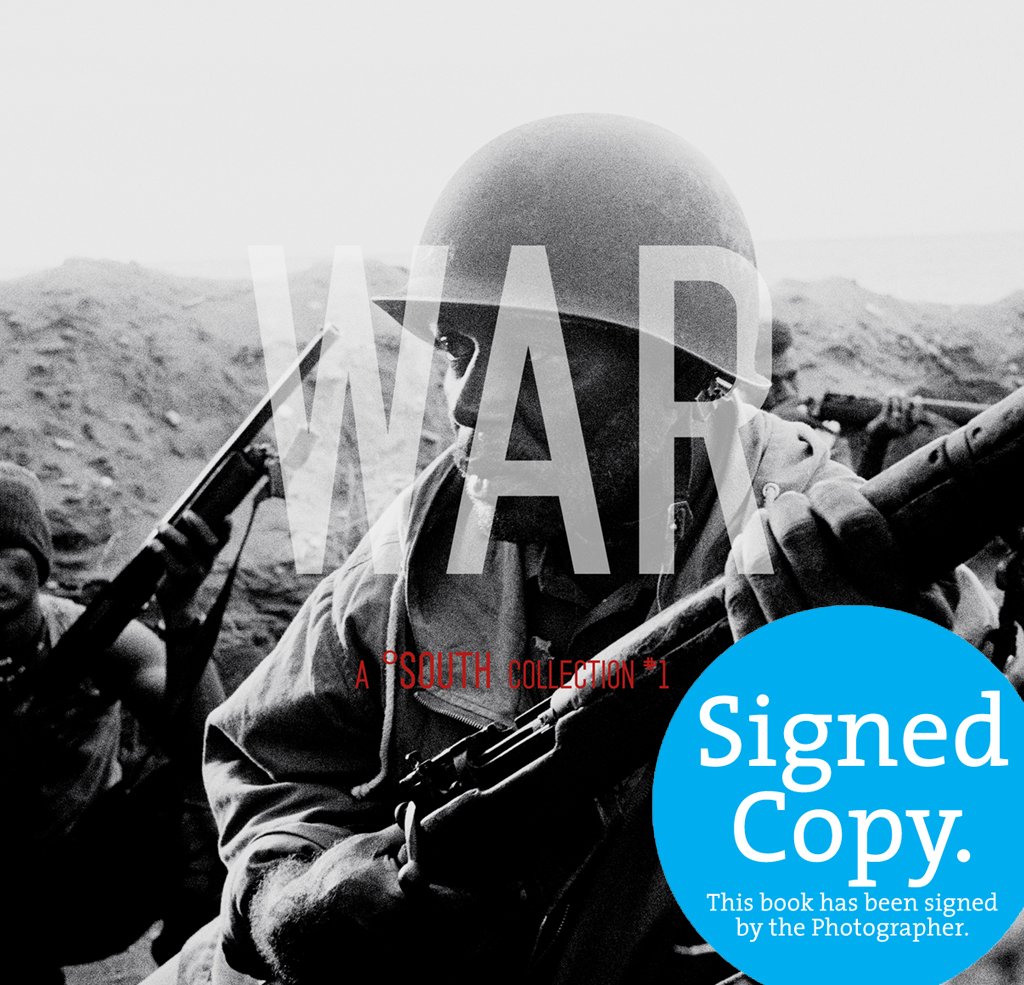 Our Books
WAR: °South: Signed
Signed by º1: Tim Page, º2: David Dare Parker, º3: Ben Bohane, º4: Stephen Dupont, º5: Jack Picone, º6: Michael Coyne and º7: Ashley Gilbertson.
The collection of images in War – A Degree South Collection #1 truly illustrates that war is the disease of humanity. There has never been a time that it didn't exist. Once the battlefield was the place of devastation. Now it is streets, alleyways, schools and places of worship. People and places are no longer protected or sacred. During times of war it is now officially safer to be a soldier than an unarmed civilian. In WWI, five percent of casualties were civilians. WWII the figure was fifty percent. In 1990, planet earth was host to 32 conflicts or wars and ninety percent of the casualties were civilians, nearly all of them women and children. Things have not improved and at present there are 43 conflicts taking place on our planet.
Printed hardcover with dust jacket. 132 pages with over 64 Colour and Black and White photographs. 30.7 (W) x 29.4 (D) cm / 12 x 11.5 in.
ISBN: 9780977579051 (13 digit) 0977579050 (10 digit)
Text: Shaune Lakin and Tim Page
The Photographers are as follows:
Tim Page, David Dare Parker, Ben Bohane, Stephen Dupont, Jack Picone, Michael Coyne, Ashley Gilbertson and Sean Flynn (Honorary Member & Absent Friend)
°SOUTH also called 'Degree South', is a photographic collective of Australia's most creative and award-winning documentary photographers who have covered conflicts from Vietnam to present day Afghanistan.
The photographs share a defining message taking us on a haunting journey through the human scars of war to shine a light on the tragedy that occurs when ordinary folk are caught up in situations in which they can affect no change. Capturing these images in the midst of war and conflict is by no means a task for the faint hearted. It is nonetheless an important one for it creates a legacy for future generations, to view the shocking realities, to bear witness to the ravaged people and places affected by war and conflict, and to allow a space for us to reflect and hopefully find different ways in the future to resolve our differences.
These photographers live a very unique lifestyle and often perform at great risk to themselves to tell the story. The premise of °SOUTH is to record 'evidence' in a fair, truthful and informative way, following in the great Australian tradition of Frank Hurley, Hubert Wilkins, George Silk, Max Dupain and Damien Parer.
Wars are complex situations that defy easy answers and it is with the courage of a soldier and the eye of a witness that these photographers have created images of power and compassion that can influence public opinion, have historical significance and even reawaken a sense of responsibility in humanity to deal with them.
These remarkable photojournalists came together under the name of °SOUTH to collaborate and share their experiences rather than compete. They have all worked independently, free from commercial influences, all are acclaimed and all have dedicated their careers to recording what they see in a fair, truthful and informative way. Their stories of struggle, hope, aspirations and traditions is how they have "gathered evidence" that will hopefully influence public opinion, be of historical significance and create social change.
Australian customers: 10% GST will be added during checkout.