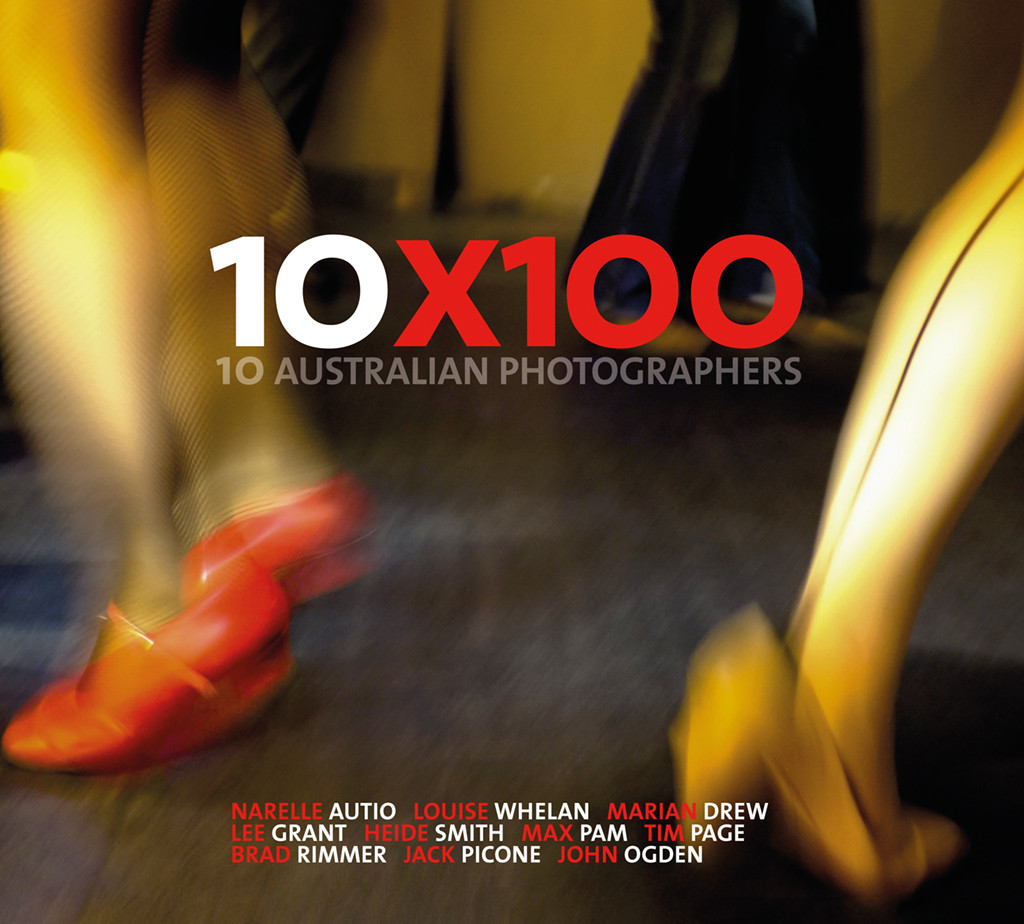 Our Books
10X100: 10 Australian Photographers
Fujifilm Professional and T&G Publishing have selected 10 of Australia's finest contemporary photographers for this unprecedented publication. They were invited to explore their creativity using Fujifilm's recently developed, compact, new generation Finepix X100 digital camera, submitting 10 photographs each for publication.
The photographers are Max Pam, Narelle Autio, Lee Grant, Heide Smith, Jack Picone, Louise Whelan, John Ogden, Marian Drew, Brad Rimmer and Tim Page.
Hardcover: 268mm (W) x 243mm (D) / 10.5 x 9.6 in. 128 pages with 100 colour plates.
ISBN: 9780987079015 (13 digit) 0987079018 (10 Digit)
Foreword by Maurice Ortega, Director of the Queensland Centre for Photography.
The 10 were chosen for their prominence as world-class photographers, their award-winning careers and their status as some of Australia's finest working visual artists. They were also chosen for the diversity of their portfolios, their unique approach to the medium and their differing technique, providing the perfect test for Fujifilm's innovative, state-of-the-art digital camera.
In creating the Finepix X100, Fujifilm embraced photography's traditions while creating a picture-taking instrument departing completely from today's increasingly predictable digital cameras. At first glance, the elegant Finepix X100 resembles the great rangefinder film cameras used by such pioneers of the art of photography in the mid-20th century as Henri Cartier-Bresson. But with its unique imaging sensor, specially created lens and hybrid optical/digital viewfinder, the X100 is designed to surpass the legendary responsiveness of rangefinder film cameras. The beautifully reproduced photographs in this book reflect 10 Australian photographers and their visionary responses to using a most remarkable 21st-century camera.
As a collaboration between T&G Publishing, Fujifilm Australia and 10 photographers, this book shows a unique relationship between publisher, film company and photographer, promoting Australian photography and the versatility of the medium. It is hoped that with the release of both the X100 camera and this landmark publication that we can continue enourage more of the same, nurture Australian photography and inspire amateur and professional alike.
Marian Drew
Marian Drew is one of Australia's most established and influential photo media artists. Known for her experimental approach and dramatic lighting techniques, Drew's contemporary work focuses on still life, greatly influenced by European paintings from the 18th century. For her celebrated series of exhibitions 'Australiana', 'Still Life' ,'Every Living Thing' and 'Birds', Drew photographed native Australian animals that died of unnatural causes, working with them in a darkened studio, painting by torchlight and exposing film for 15 minutes per shot. The resulting photographs are quietly shocking, yet seductive, vivid and beautiful, providing a contemporary twist to the Dutch and Flemish still-life genre. In her highly collectable landscape work, Drew literally immerses herself in the scene, utlising long-exposures and slow motion panning, exploring the connectedness of human identity to the environment.
Brad Rimmer
Perth-based Brad Rimmer, born in Wyalkatchem, is a photographer widely known for his semi-autobiographical images of his adolescent home in the Western Australian wheatbelt. His celebrated monograph 'Silence' documents the quiet consciousness of a town slowly withdrawing from the world. Rimmer's image-making captures both spontaneous detail and considered, carefully composed portraits, typically on medium format film. He employs a vision that is both contemplative and introspective, frequently pausing with the camera where others would not, exploring domestic spaces and the ordinary. Similar themes of isolation and urban migration are investigated in a photographic series Rimmer calls 'How Now Mao', depicting China in the new millenium. His photographic practice also uses plastic toy cameras, as seen in his black and white series 'A Toy Camera in China', documenting China's past and present.
Jack Picone
Jack Picone, born in Moree, New South Wales, is a renowned photojournalist and documentary photographer based in Bangkok. Picone covered eight wars in the 1990s, some several times over, including Armenia, Yugoslavia, Somalia, Rwanda, Palestine, Iraq Liberia, Sudan, Angola and Soviet Central Asia. Picone is credited as being part of a new wave of Australian photographers that matured in the 1990s, a group who not only reported on day-to-day events but the deeper social issues at hand. This is no more apparent than in Picone's more recent commitment to documenting the pandemic of HIV AIDS. His photographic practice is characterised by a non-intrusive and unhurried approach with his subjects, exemplified by his work in the remote Nuba Mountains, Sudan. Picone's ongoing documentary photography involves interacting freely with other people's lives, telling their story – first on a micro level, then providing a catalyst for communication between different cultures on a macro level. Picone is a co-founder of Australia's REPORTAGE festival and the founder of The Jack Picone Photography and Stephen Dupont Documentary Workshops. He is the recipient of some of photojournalism's and documentary photography's most prestigious awards.
Lee Grant
Lee Grant is a documentary and portrait photographer based in Canberra. She is best-known for her exploration of migrant identity against the backdrop of Australian suburbia. Her sophisticated, often formal, colour-portraiture examines identity integration and inhabited landscapes. In doing so, Grant frequently divulges the changing cultural face of Australia. Most of her photographs, taken with medium and large-format cameras, are set in the suburban context where Grant herself lives. Within this environment her lens often zeros in on the seemingly banal, the ubiquitous, the overlooked and the over-familiar. Her purpose is to use photography as a means of transcending language barriers, revealing aspects of identity, displacement and belonging otherwise in danger of going unnoticed. As a Korean-Australian Grant's work is in part autobiographical – a means of navigating and interpreting her own identity and heritage, as well as an instrument to inform and inspire broad audiences.
Louise Whelan
Louise Whelan is a Sydney-based commercial and fine art photographer. Whelan's portfolio is diverse, specialising in portrait, burlesque, vintage, pin-up and Hollywood stylised images, social documentary, aerial photography, stills on films and contemporary art images. Her vibrant images of burlesque scenes are imbued by stong flashes of colour, extravagantly composed and carefully manufactured. Similarly bold and arresting, her symetrical aerial photographs depict mirrored scenes from the everyday with mesmorising effect. Whelan's documentary photographic practice is patient and warm-hearted, evident in her definitive visual study of the ethic make-up of New South Wales, endorsed by the State Library. Titled 'Australians All', the study is a photographic exhibition documenting the one hundred and fifty different ethnic groups within the New South Wales community, a one-of-kind and priceless national treasure.
Max Pam
Born in suburban Melbourne Max Pam is a contemporary photographer now based in Perth. Beginning in the 1970s, Pam's photography has been shaped by his aesthetic obsessions, seemingly mundane objects and the nuances of different cultures. He uses photography, often combined with art and text, to create a visual language that is almost entirely autobiographical. His self-proclaimed 'magic realist sensibility' stems, in part, from his upbringing in a post-war suburban Melbourne, a time and place Pam found oppressive and culturally isolating. What followed was a series of travel experiences beginning from the age of 20 and photographs that were shaped by individual encounters. The images are not simply records of his travel, they are of the intimate and personal – unashamedly composed, collaborative and deeply considered. His journeys are always compelling, mischievous and physical, playing on the notion of the gazetteer and the 'supertourist'.
Narelle Autio
Born in the beach-side suburbs of Adelaide, Narelle Autio has provided Australia with some of its most treasured photographic works. After collaborating in black and white with Australia's Magnum photographer Trent Parke in 'The Seventh Wave', Autio continued to look to the Australian beach for inspiration. Her more recent photographic practice incorporates a playfulness with colour and light in the public domain, evident particularly in her ethereal photographs of the human figure in relation to water. Her method leans toward the candid, drawing on the techniques of street photography, and preferring an organic approach to her visual story-telling. As both a World Press-winning photographer and one of Australia's 50 most collectible artists, Autio is part of a successful wave of photographers adept at traversing the divide between art and documentary. www.stillsgallery.com.au/artists/autio
Tim Page
Born in England, Tim Page is one of the world-of-photography's most widely know identities. Largely self-taught, Page made his name as a young combat press-photographer in wartime Vietnam and Cambodia, a conflict that ushered in a new era of freelance photojournalism. Granted with unprecedented access in the field with no censorship from the military or government, photographers were able to expose combat on an acute scale. A young and dauntless Page was willing to venture where other journalists dared not. Page was wounded four times, and in 1969 a land mine ended his war in Vietnam. Most of the 1970s was spent in recovery in America where he worked as a freelance photographer for music magazines Crawdaddy and Rolling Stone. He went on to cover more wars, most recently woking for the UN in Afghanistan. He now lives in peace in Brisbane, has become an Australian citizen and dedicates much of his time documenting the legacy of wars and the plight of its victims. He is an adjunct professor of photojournalism at Griffith University, a practicing photographer still living by the mantra, 'You've never made your best picture until you get to the next frame.'
Heide Smith
Best-known for her commissioned and non-commissioned portraits of Canberrans, indigenous and noted Australians, German-born Heide Smith has emerged as one of Australia's most important contemporary photographers. Smith undertook an apprenticeship as a photographer in Germany and received her diploma before working as an industrial photographer and photojournalist, emigrating to Australia in 1971. After working in a colour laboratory, Smith opened a studio in Canberra in 1978, quickly developing a highly-praised reputation for commercial portraiture alongside her architectural photography. Smith's 'Portrait of an Industry' (1984-1986) is a collection of portraits depicting some of the most important photographers in Australia during that time. This collection is now housed in the National Library of Australia. Ever since, Heide has added many more portraits to this folio. Her more recent documentary projects have won her international regard, particularly her photographs of the distinctive Tiwi people in northern Australia, as well as her documenting of the Cambodian peace process in 1993. Smith is currently based in Narooma, a small fishing village in New South Wales.
John Ogden
John Ogden is a creative photographer, filmmaker, writer and artist based in Avalon, Sydney. Ogden's career began as a photojournalist in Southeast Asia during the last days of the Vietnam War, later extending his practice to cinematography in multiple genres of filmaking. His black and white humanist photography, featured in the 1999 book Australienation, addresses the reconciliation between Australia's indigenous peoples and the various tribes and many races that subsequently settled in the Great Southern Land. An equally emotive record of the first Australians, Portraits from a Land Without People, published in 2009, is a self-proclaimed 'beautiful obsession' that is now acknowledged as the most comprehensive pictorial history honouring Aboriginal culture yet produced. The latest book to emerge from Ogden's publishing company, Cyclop's Press, is a thoughtful history of Sydney's northern beaches in words and pictures, Saltwater People of the Broken Bays. Ogden's photographs are often direct, yet quietly subversive, choosing not to shy away from political commentary, provocation or occassional dark humour. Many of the themes that have become part of Ogden's body of work over the last four decades are explored with the X100, including the 'No Exit' series of bricked-in doorways and windows.
Australian customers: 10% GST will be added during checkout.